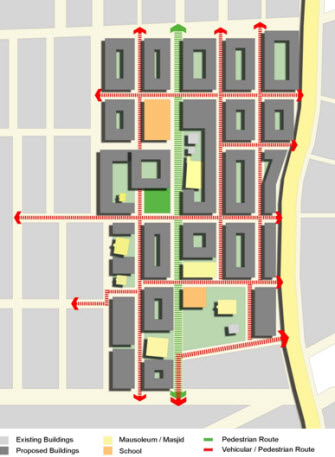 Access and Routes Principles
BHENDI BAZAAR,
SOUTH MUMBAI INDIA
The road pattern of the site is characterized by the strength of the north-south routes and secondary west-east links.
The existing grids are maintained and enhanced along Dhabu Street to create a green pedestrian route within the centre of the site.
Cultural and buildings of religious significance are maintained and the spaces around it are enhanced to connect with the public realm.
Design Principles
Creating main pedestrian street on North - South axis, linking important buildings on site.
Creating communal courtyards and Place making.
Majority of the units to benefit with dual aspects.
Retaining existing block layout and adopting to the existing routes.
Proposal for block by block phasing development.
Average height of housing 8 storeys.
Redevelopment of the public realm within the vicinity of the main mosque.
Page 2