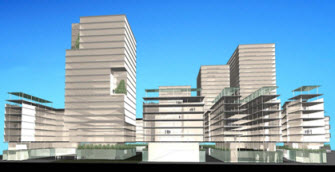 CGI showing cross section of site
CGI showing external envelope
BHENDI BAZAAR,
SOUTH MUMBAI INDIA
The treatment of the sections responds to the climate of Mumbai where temperature could soar above 40oc.
The main emphasis is to allow continuous air circulation on the west east axis enabling air flow to circulate freely over courtyard spaces and on landscape podium levels to provide comfort cooling.
The commercial interface is maintained at ground level and residential accommodations above the podium landscape levels, maintaining the existing functions.
Design Principles
Cross section designed to provide maximum air flow on the west east axis to provide thermal cooling.
Maintaining the ground level function as a commercial usage and upper levels as residential.
Provide solar shading shutters with designs that are within the cultural context.
Provisions of adequate courtyard spaces between building blocks.
Provision of 'sky gardens' and landscape podiums on first level of residential blocks.
Page 3